Computer Servers
As your business grows, so does the need to share files and documents. In fact it becomes a necessity. That's where Computer Servers come to the fore.
Professionally installed – and managed – modern Computer Servers provide numerous benefits:
At a most basic level, sharing documents across your company
Computer Servers assist in handling communications, database functions or hosting business applications for multiple users
Protecting your data – once all your business data and software is on a server (instead of dispersed across desktop computers and laptops) you can deploy a backup system to protect your business from data loss.
Running security suites to secure your network through firewalls, intrusion detection, user access management, and software updates.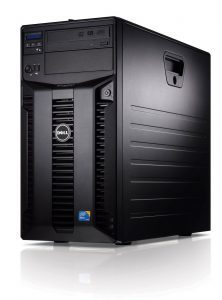 Servers tend to be used to centralise data management and file sharing, as well as managing shared resources such as printers and storage devices. They can also be used to manage things like user identities, logins to the network and access priorities. Fresh Mango is experts in business servers. We can help you choose the best server for your business, then supply, install, deploy and maintain it on your behalf.
Computer Server uses
In some cases, servers may be used to run specific applications that require additional processing power or computing resources in order to run efficiently. Large, processor-intensive financial trading, document management or imaging software are examples of this.
As a result, some businesses choose to run dedicated server boxes for different applications,  databases or communications platforms, which often require their own machines.
Servers tend to differ from desktop PCs in running a dedicated server operating system, or network operating system. They typically have more memory and more powerful processors, as well as advanced networking and storage facilities. Servers also tend to be built with reduced downtime in mind, since they need to ensure the desktops and the business itself stay up and running.
How is server software different from desktop software?
Small business servers need to supply information and resources to multiple users. So their operating systems and applications are designed differently from desktop software.
Server software might allow users to share, (eg productivity or business applications) as well as e-mail applications, Internet connectivity, data backup, and office equipment such as printers and scanners.
What is an application server?
An application server is basically a server that runs a specific application platform from the likes of Microsoft, Oracle, SAP, IBM or any of the other application vendors that sell server-specific software.
One benefit of using application servers is that by centralising your business logic on an individual server, or on a small number of server machines (called a cluster), you can guarantee you will have the right updates and upgrades to the application for all users. Also, any changes to the application configuration or settings can be done centrally, which is far more efficient.
It may also be easier for third-party services firms to maintain an application that resides on a single server, and software licensing also becomes much simpler to manage.
What is virtualisation?
Virtualisation platforms (for example from HyperV, VMWare and Microsoft) allow businesses to lower their hardware and computing costs by running multiple servers or desktop applications on a single physical machine, or fewer servers than before.
Virtualised applications share the existing physical computing resources of their servers, such as processing and storage.
Contact Fresh Mango today for all your Computer Server questions and requirements.