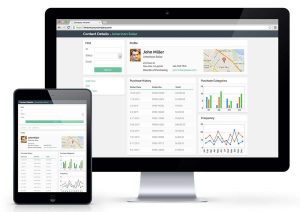 Online Portals
Online portals and databases provide a huge opportunity for increased productivity in the workplace. So long as staff have an internet connection they can access and update information via the browser-based portal so it is immediately accessible across the company. Fresh Mango build bespoke online portals and databases to client specifications and requirements.
We provide advice to our clients on best-practice – moving to online portals provides a huge opportunity for process improvement in your business. For example:
We developed a portal for a business whose purchase order management was entirely paper-based. With the online portal we developed for them all staff now have visibility of purchase orders – open or completed – with all suppliers. It is also integrated with their accounting system. The portal has created significant productivity improvement and reduced errors in data entry.
We developed a smartphone app for inbound and outbound warehouse processing for a company. They used to have to account for all deliveries (several daily) on paper forms, a burdensome and error-prone process. Now they simply enter quantities into the app and hit send – their accounting and inventory systems are automatically updated at the touch of a button.
Offline functionality can also be incorporated into our portals and databases, with updates 'pushed' as soon as staff go online. Databases can also be deployed internally on customer servers if required.
We deploy portals and databases via web-browsers, so the feel and navigation are immediately familiar to staff and users.
We fully recognise the importance of integrations, and we design our online portals and databases to integrate with other software you may use, including accounting, CRM and online payment portals.
Given the proliferation of devices available for viewing websites – Desktop computers, laptops, tablets, smartphones – every database we build has the option of establishing it as an 'App' for deployment on mobile devices. This means your database can be accessible from all devices in your organisation.
Benefits of our Approach
Continuous communications feedback loop to ensure your requirements are fully met
Advice on best-practice – moving to an online platform provides a huge opportunity for process improvement
Access to development platform for testing
Modular design for future development
Next Steps
Contact us and request a free consultancy for any area of your business that you feel would benefit from process improvement. We'll assist with a cost-effective approach that will deliver benefits to your business for years to come.