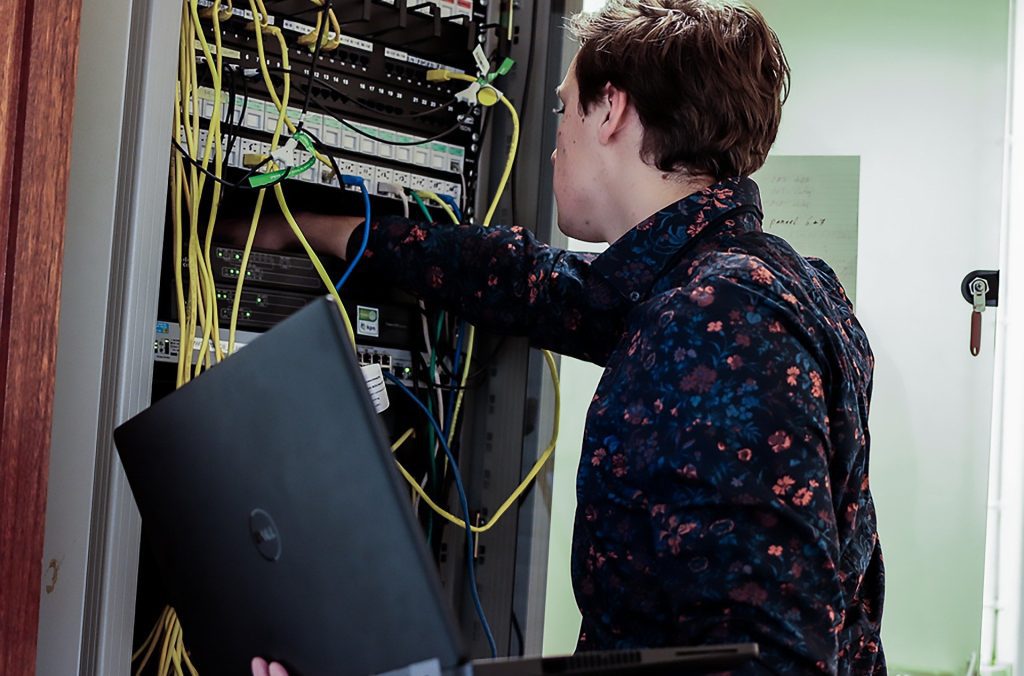 A Day in the Life of an IT Support Technician
I thought it may be interesting to write up what a typical day as an IT Support Technician at Fresh Mango Technologies is like. So I worked with one of our team members in England on a random day (a Tuesday last month) and kept a diary of everything he did that day.
It turned out to be a lot of fun and I hope you enjoy reading it as much as I did writing it!
IT Support Technician – a 'typical' day
Well let's put something to rest immediately – there's no such thing as a typical day for an IT Support Technician! We certainly plan the weekly work for the team, and so on a day-to-day basis, they always have a clear schedule in place.
However, we never know when a customer may have an urgent IT matter that requires a 'DER' (Drop-everything request) and so all plans are fixed in stone until they aren't!
Fortunately, we don't get many DERs – with continuous monitoring of customer systems and regular 'patching' and other health checks – we keep problems to a minimum. That doesn't mean they don't occur though, as we were to see on this particular Tuesday… Here's how it played out. It's written in the first person from our technician's perspective.
Leaving Home
I left home at 730AM to ensure I could beat the traffic and by at our customer premises near Leeds for an 8 AM scheduled onsite visit. The relatively early start was to ensure minimal disruption to the customer (their staff mostly start at 9 AM). This particular customer has quarterly visits and their systems are relatively new, so I anticipated a pretty smooth visit.
After checking in I went to the server room to conduct physical checks and updates of systems. This took around an hour, and then I did a 'touch check' of every PC and laptop available. This entails simply talking to every member of staff and asking if they have any IT issues. We find that sometimes people will suffer an annoying issue and they don't raise it as a support request. By 'touch checking' everyone we can iron out any niggles whilst on-site and it's always appreciated.
At the same time, I handed out special offer cards, ensuring each PC is labelled and had 'How to contact us' stickers on them. I found a couple missing and added them.
10 O'Clock
Back to the Leeds office and to my desk to conduct scheduled work and to help deal with any tickets (support requests). It was a busy day. Microsoft had issued an 'Emergency patch' update overnight. This means that Microsoft has found a security issue with their operating software, and so the software needed to be updated on all customer computers as soon as possible. So I set about scheduling overnight updates for the customers that had been assigned to me.
Lunchtime (1230)
Having gotten through all my updates, I headed for some lunch. I usually bring something into the office, but I had another scheduled on-site visit with a customer south of Leeds so decided to eat 'on the hoof'. This was for a straightforward installation of 2 new PCs.
I arrived at the customer premises at around 1 PM and installed the computers. I asked the users to ensure they were set up to their liking (they were) and also did a quick check of their server (not scheduled but I think it's good practice). Just as I was getting ready to head back to the office, I received a call from Bruno (our Technical Manager). He wanted me to head straight to another client just a couple of miles away. They had just called to say they thought they may have been hacked. OK, foot-down time!
245 PM
Arrived at the client's premises. Bruno had briefed me en route and one of our senior technicians was also accessing their systems remotely to run security checks. Strictly speaking, we didn't necessarily need someone on-site, but when a client thinks they have been hacked we always establish an on-site presence as quickly as possible. This is in case we need to isolate a device, or the entire network if a sustained cyber attack is underway.
Fortunately, that was not the case with this particular event. We quickly found the source of the hack – a single PC – and so I immediately quarantined it. This is of course disruptive for the individual using it, but we can't risk a hacker gaining access to other systems, nor do we wish to see ransomware spread across their network. Having confirmed with Bruno that all scans were negative, I headed back to the office with the quarantined computer so we could diagnose what happened and clean it of any malware.
4 PM
Arrived back at the office, and with assistance from Bruno, we began the diagnosis. As is so often the case, we found that the user had clicked on a 'phishing' email. This particular link took the user to a convincing, but fake, Microsoft login screen. This in turn asked for credentials that they had entered. So, the first thing to do was to reset their password, which I did. We then ran a full security sweep of the PC and confirmed no other 'nasties' were on it.
That was a close shave for the client – fortunately the individual who had clicked on the link had the presence of mind to realise something may have been untoward and had notified us accordingly.
545 PM
Time to head home. I arranged for another member of the team to return the quarantined PC to the client first thing tomorrow since my schedule was taking me to see three clients in North Yorkshire.
So there you have it – a typical day for an IT Support Technician. And it's still only Tuesday…!