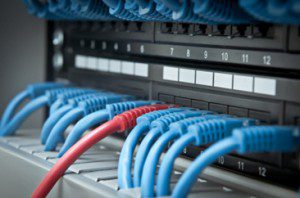 A first-class network infrastructure and cabling architecture is critical for fast, flexible and reliable network operations.  It impacts everything on your network, from day-to-day computer operations through to printing and phone systems and even your IT security.
Thanks to the expertise of our network infrastructure technicians, Fresh Mango will help you plan and deploy network cabling. This can be in either existing or new buildings, to provide optimum efficiency. This can be in either existing or new buildings – we can provide advice, support and perform the network installation work. We can also recommend, supply, install and maintain business servers.
All our IT networks and installations are tested comprehensively prior to deployment. Every single port and patch is labelled and documented, ensuring that future maintenance work is so much easier and simpler.
Contact us today and we'll be pleased to conduct a no-obligation visit to your premises to provide recommendations on your network infrastructure requirements.
Approach to Network Infrastructure Design & Implementation
We conduct a professional analysis, design and implementation for our client's network and cable infrastructure requirements. Our aim is to provide clients with a network that is stable, secure and built-to-last as new services and applications are added.
We summarise our approach as follows.