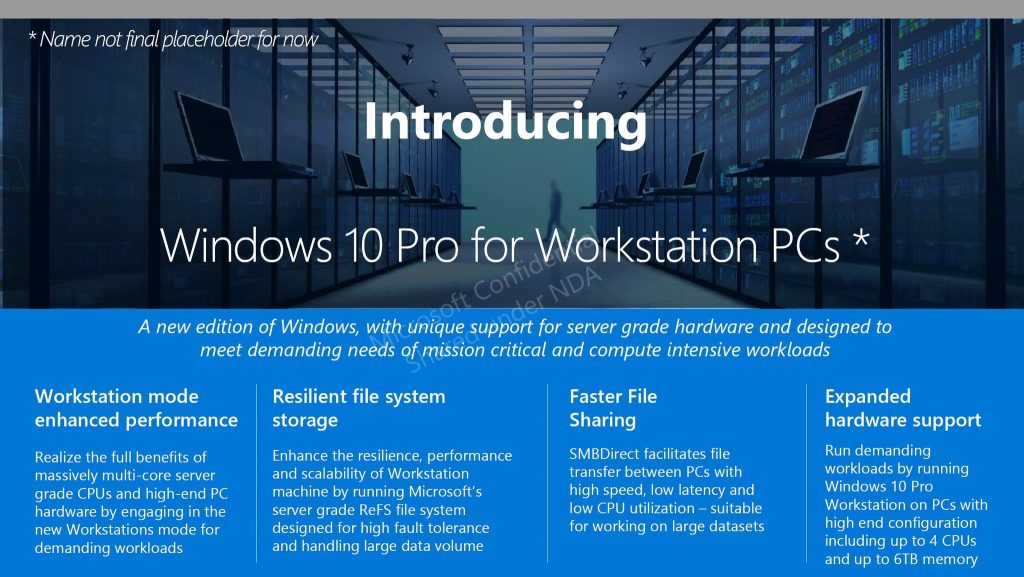 Windows 10 Pro for Workstation PCs – A new edition of Windows!
Microsoft recently announced Windows 10 Pro for Workstation PCs, a new edition of Windows, with support for specific features listed below. Windows 10 Pro for Workstation PCs will begin shipping on Dell Precision systems with Intel Xeon processors on October 3, 2017.
Windows 10 Pro for Workstation PCs:
launches October 3, 2017
is required for Windows Pro systems with Intel Xeon or AMD Opteron processors
includes a Microsoft royalty increase based on hardware specifications
enables new features that Microsoft will make available in with the fall update but some features require new hardware capability to support in the future
requires new sets of SKUs to be offered
does not require an image change
With these changes required by Microsoft, workstation customers will now have three Windows OS pricing levels:
For customers using Intel Core i3/5/7 CPUs, workstation systems will be deployed with Windows Professional.
For customers using Intel Xeon CPUs, workstations systems will be deployed with different Windows Professional for Workstation PC SKUs based on the specific selected CPU.
Precision Xeon orders placed before October 3, 2017 will ship with standard Windows 10 Pro and may be upgraded by purchasing the Workstation edition through the Microsoft Store. Precision system orders with Xeon processors placed on or after October 3, 2017 must include the new edition.
Windows 10 Pro for Workstation PCs offers the following new capabilities as part of the Fall Creators Update (some features require future hardware readiness to support):
Resilient file system (ReFS): Enhance the resilience, performance and scalability of workstation machines by running Microsoft's server grade ReFS file system designed for high fault tolerance and to handle large data volume. Applications should re-test with this feature. HW requirement: most likely two or more storage drives in RAID mode, need to re-format when going from NTFS to ReFS
Fast I/O with Persistent Memory (NVDIMM):  Enable demanding workloads to access important files at the speed of memory with high-end persistent memory hardware configurations. HW requirement: new Intel Skylake SP+ and Skylake W Xeons with future NVDIMM-N storage + BIOS update
Faster File Sharing with SMB Direct: SMB Direct facilitates file transfers between PCs and Servers with large datasets, all with high throughput, low latency and low CPU usage. Limitation: Feature not available via wireless LAN, only via selected LAN card
Expanded Hardware Support: 4 CPUs + 6TB memory. Currently, no Dell platforms to support
We are committed to working with you in developing any and all options based on this mandatory licensing change.
The initial capabilities listed above will become available approximately in December when Microsoft launches Fall Creators Update, the newest version of Windows. We will help you with your Windows 10 options and strategy. If you have any questions, please feel free to contact us.